Tips 16 Jun 2006 03:45 am
Googlepages is a free hosting programme by Google. It features WYSIWYG page editor and a 100mb hosting. Many people ask how the hell you want to put adsense on Googlepages as you cant edit the HTML source directly.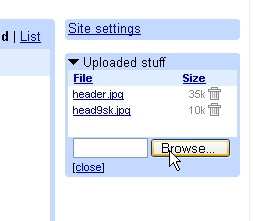 Here's how:
-Create a new page offline (Using dreamweaver, Frontpage etc..)
-Limit the use of images and external file
-Name your page other than index.html or default.html
-Here's the best part. Upload the whole html file. And that's it!
Yes, apart from images and sound file you actually can upload HTML file to GooglePages. Now you page is hosted on GooglePages. Play around and you'll figured out everything.
As always, if you have any questions, please leave a comment.