Tips 16 Jun 2006 03:45 am
Googlepages is a free hosting programme by Google. It features WYSIWYG page editor and a 100mb hosting. Many people ask how the hell you want to put adsense on Googlepages as you cant edit the HTML source directly.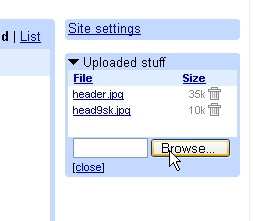 Here's how:
-Create a new page offline (Using dreamweaver, Frontpage etc..)
-Limit the use of images and external file
-Name your page other than index.html or default.html
-Here's the best part. Upload the whole html file. And that's it!
Yes, apart from images and sound file you actually can upload HTML file to GooglePages. Now you page is hosted on GooglePages. Play around and you'll figured out everything.
As always, if you have any questions, please leave a comment.
Beginner 10 Jun 2006 03:32 pm
Ini problem biasa berlaku. Cuba nengok content korang. Barangkali korang telah memberikan informasi yang secukupnya (lengkap) kepada pelawat. Kalau korang nak diaorang klik pada iklan tu (maksudnya meninggalkan site anda) korang kena bagi sebab untuk diaorang.
Content korang mesti dapatkan iklan namun pastikan dalam iklan tersebut ada jawapan.
Cuba gak try letak iklan kat bawah page korang. Bila diaorang dah setel baca semua, pastikan diaorang blah melalui iklan tersebut (selain tutup window).
Beginner 07 Jun 2006 03:26 am
Bule kasi tau lebih lanjut psl adsense?
Aku sarankan baca nengok Adsense Tour (link kat sebelah).
Brapa perolehan dlm sebulan?
Soklan ni sangat subjektif. Banyak aspek yang mempengaruhi pendapatan ko sebulan. Visitors yang ko terima, ad placement, CTR (click-through-rate) dan paling penting content ko. Kalau content ko power, orang akan suka. Dan cerah masa depan nak dapat earning yang tinggi.
Ko ada kawan yang buat freelancing tak atau ko sendiri?
Takde. Semua aku buat sendiri. Bukankah lebih seronok dan adventure? Kalau anda berniat nak hire freelancer, besar kemungkinan kos yang perlu anda keluarkan lebih tinggi daripada earning yang anda akan terima. Jangan terburu-buru nak keluarkan modal. Aku bermula tanpa sesen modalpun. Tapi kalau lu mutut-mutut mau belanja besar:
Beli hosting (RM25-RM200)
Lantik sorang webmaster (kena bayar gaji)
Lantik penulis freelance untuk content (takkan free je?)
Tapi apakata kalau ko cari satu topik yang ko suka. Contohnya.. err.. orang pompuan suka apa ekk.. Bunga? Bunga pun boleh lah!
Ko bukak satu blog kat
Blogger
. Ko tulis pasal bunga je. Hari-hari ko research. Hari-hari post entry baru. Cari rujukan. Baca buku. Ko buat mende ni pada masa lapang ko je. Jangan lupa letak Adsense dalam blog tu. Sekali-sekala ko lawat website lain yang sama topik ngan blog ko ni. Ejas tokei dia suruh letak link ko dalam website dia. Ejas tokei website lain pulak. Lama-lama website bunga ko akan menjadi glamer, dan ramai orang datang nengok. Bila dah ramai orang datang nengok, mesti ramai yang klik adsense ko. Itu jam baru la duit masuk banyak. Nak lagi power ko buat mende ni sebagai hobi sambilan je. Slow-slow. Setiap minggu ko aim earning ko berapa (secara realistik). Lama-kelamaan kalau penuh keyakinan dan iltizam ko bisa berjaya. Masa tu cuba ko kira berapa banyak modal ko dah keluar?
Takde sesen pun kan?
Beginner 06 Jun 2006 05:46 pm
Macamana adsense bekerja..
Ha'ah aku tak terpikir pulak selama ni. Adsense sebenarnya bekerja untuk aku. Dia sendiri akan baca page/site/blog aku. Pastu dia sendiri akan tentukan iklan apa yang nak keluar. Pulak tu dia sendiri yang kira bape banyak orang klick, bape banyak pageview. Ia tak menganggu langsung tugas kita sebagai webmaster.
Macamana boleh gain money lak?
Duit tu dapat bila seseorang klik kat iklan kita tu. Klik bukan klik sesaje, tapi dia klik sebab dia berminat dengan advertisement tu. Jadi dia nak tau lebih lagi. Nilai satu klik berbeza bergantung kepada content. Sesetengah content harga satu klik tu mahal. Dan ada jugak yang hek ele.. satu sen je.. Juga harus diingat jangan klik iklan sendiri, jangan suh orang lain klik untuk anda. Semuanya mesti berlaku secara semulajadi.
Macamana tu?
Korang bayangkan korang menulis pasal.. err.. motorsikal. Cerita itu ini pasal motor, korek blok sana sini, fairing, lampu signal semua. Pastu adsense akan target content ko ni, dan dia akan diaplay iklan pasal motor. Bila visitors korang baca, sekali ternampak pulak iklan pasal motor yang adsense letak tu, tak ke diaorang teruja nak klik untuk mendapat maklumat lanjut?
Beginner 05 Jun 2006 06:04 pm
Banyak aku nengok blog korang ada adsense, tapi takde iklan keluar. kenapa ekk..?
Kalau ada iklan pun pasal derma-derma gitu, hurricane victims seme. Tau kenapa?
Batu letak code adsense. Dia ambik masa kadang-kadang sampai 24jam untuk target iklan. Bersabarlah.
Content dalam bahasa melayu. Ini yang paling susah. Adsense tak dapat nak target content dalam blog korang tu. Diaorang mana paham cakap bahasa melayu! So aku sajes once in a while, boleh try menulis dalam english. Alternate ngan content bahasa melayu. Seingat aku syarat minima dia kena ada content dalam bahasa inggeris dalam 70% gitu.
Code salah letak. Ini paling parak. Cuba repair balik. Dan ingat, jangan sekali-kali ejas code yang korang generate tu. Sebagaimana dia keluar, macam tu la korang tepek kat blog.
Ada apa-apa lagi masalah. Kontek aku.
Beginner 03 Jun 2006 10:03 pm
Google has a great Getting Started Demo for you. Just click on the link and sit back. Great for beginners.
Beginner 03 Jun 2006 08:33 pm
Kalau korang menghadapi masalah nak menulis artikel, aku sajes korang rembat dari
Ezine Article.
 Korang boleh republish artikel kat sana dengan syarat bagitau kat mana korang rembat artikel tu (EzineArticles.com) dan include sekali resource box yang ada kat setiap artikel tu. Jangan lupa juga pastikan link semua live dan berfungsi dengan betul.
Walaupun ini jalan mudah untuk korang, namun aku tak rekomen sangat sebab nampak profesional website korang nanti. Kalau nak rembat pun berpada-pada. Takkan dalam website korang tu semua sekali artikel rembat? Tulis sendiri sesikit. Sekali-sekala pun takpe.
EzineArticle.com adalah salah satu website yang aku gunakan sampai skang ni. Ada banyak lagi kat luar sana. Nanti aku bagi korang senarai penuh.
Beginner 03 Jun 2006 08:28 pm
If you're having a hard time writing, i suggest
Ezine Article
. You can republish all the article in there provided that you include the FULL Resource box or SIG line at the end of the article.
Don't forget to write your own article.
Beginner 03 Jun 2006 08:24 pm
Pantang yang paling pantang sekali untuk adsense ni adalah.
jangan click ad (iklan) sendiri
jangan suh sesapa (kroni/sedara-mara/member/teman wanita) click adsense korang
Err.. aku dah bagitau ke korang supaya baca polisi ni dan fahamkan sampai terhafal dengan sendirinya. Takkan nak suh aku translate jugak?!
Beginner 03 Jun 2006 08:20 pm
Use your real name
Use your real address
Check you spelling
Account type : Individual (unless you're signing up for a company)