Tips 22 Jul 2006 11:32 am
Kadang-kadang website adsense yang sukses tak perlu interface yang cantik. Habih huduh pun boleh jadi. Yang penting skang content. Content korang perlu unik dan orang lain tak jumpa kat mana-mana. Bila content tu unik dan padat dengan keyword yang penting, search engine akan suka. Korang punya SERP pun sure naik.
Bayangkan seorang kutu nak cari sesuatu. Pastu dia jumpa website korang. Pastu website tu huduh gile. Dia musti nak blah sebab jelek ngan website tu. Blah kat mana?
Itu jam korang pastikan adsense korang stand out gila-gila punya (kaler kasi kontras ngan site). Mesti kutu tu blah dengan meng-klik adsense korang.
Kalau aku, kadang-kadang bila nak buat page baru aku malas jugak nak design-design ni. Banyak lagi kerja aku boleh buat. Takkan nak habih sejam buat page baru je? Itulah.. website tu tak seharusnya cantik.
Tips 16 Jun 2006 03:45 am
Googlepages is a free hosting programme by Google. It features WYSIWYG page editor and a 100mb hosting. Many people ask how the hell you want to put adsense on Googlepages as you cant edit the HTML source directly.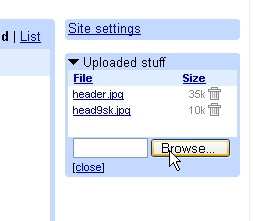 Here's how:
-Create a new page offline (Using dreamweaver, Frontpage etc..)
-Limit the use of images and external file
-Name your page other than index.html or default.html
-Here's the best part. Upload the whole html file. And that's it!
Yes, apart from images and sound file you actually can upload HTML file to GooglePages. Now you page is hosted on GooglePages. Play around and you'll figured out everything.
As always, if you have any questions, please leave a comment.